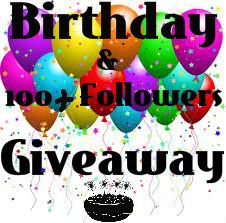 I have a fun idea for a Birthday & 100+ Followers Giveaway!
I'll be giving away one Amazon Giftcards! But here's the thing the giftcard won't be over 10 dollars and it won't be lower than 1 dollar. I'm going to go put the numbers in the True Random Number Generator on Random.org and whatever the number generates between 1 and 10 is how much you'll get.
Example:
Min: 1
Max: 10
Generate
Results: 4
So you would get 4 dollars.
Do you get it? If not and you have any questions just ask. I just thought that this would be a fun way to do a giveaway!
I'm finally 19!!
My 1st Wishlist
My 2nd Wishlist
a Rafflecopter giveaway
If you want to sign up for the Holiday Book Exchange before sign ups close on 11/20 sign up below:
-Sign-ups are open until November 20th so if your going to sign-up make sure you do so before then.
-You can send new or used books just make sure that the used books aren't in bad shape son't send someone something you would't want to receive.
-This is open to US residents only.
-Make sure that you put the Holiday Book Exchange button on your website or blog to show people that your participating and to help spread the word.
-If you sign-up make sure you send out your gifts please.
-Gifts must be sent out before December 12th.
-Someone asked if you can send a list for your wishlist and that's fine.
-Please email me at temarasheppard(at)yahoo(dot)com once you receive your gift.
-Fill out the form below.